No, our flipbook solution is an browser and platform independent online application. Which means that you can use it on any platform (windows, linux, mac, android, …) and any browser (Safari, Internet explorer, firefox, Google chrome, Konquerer,…).
No,
Our flipbook solution uses components (JS, PHP, SQL, …) which are integrated into a powerful backend making it that the flipbook will only work on our servers. There for the flipbook can't be downloaded. You can download a special HTML5 file with the flipbook embedded (using the anonymous URL) into it making it look as if the flipbook is hosted on you own server.
Pageflip ZERO is our free solution powered with Google advertising.
Pageflip LITE/PRO are our payed solutions where you purchase a flipbook and pay based on the amount of pages it contains.
Pageflip CLOUD is our payed solution where you pay a fixed fee/month and can convert an unlimited amount of flipbooks.
Our Pageflip Pro version supports internal/external links and links to multimedia files (video/images/…).
For the time moment those links are only supported in PDF mode until our linkmanager will be launched.
To make those links work in your PDF you will need to use the link tool in adobe indesign or acrobat (or you own PDFsoftware) and add your links. These can be either links to another page in your PDF, a website address or multimedia files.
For the multimedia files you will need to use full addresses (http://yoursite.com/video.mp4 / http://yoursite.com/image.jpg / https://www.youtube.com/watch?v=P3q9VGDvXNA) and our software will process those files depending on the type of file/link.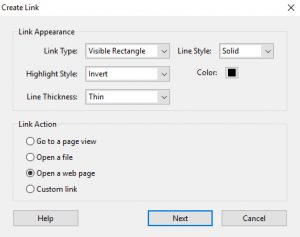 https://helpx.adobe.com/acrobat/using/links-attachments-pdfs.html